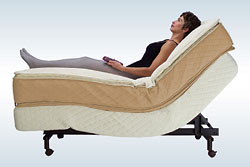 Scroll down to view the complete collection of thread counts and colors or use the menu above to jump to your selection.
To order, click the " Order Now" button next to the thread count of your choice.
Our Adjustable Bedding is made to fit...
Available in many thread counts and colors:
Sheet Sets
Individual Sheets
Comforters
Pillows
Pillow Shams
Bed Skirts
Mattress Pads
Sheet Sets are designed to be used with adjustable beds that are either fully independent (made with two smaller beds side-by-side) or partially independent (a single mattress that is split partway down the center).
Bottom sheet(s) - If you select the Split (two separate bottoms) option, you will get two bottom sheets, each will be half the overall width of the set (for instance, a 60x80 Split Queen set comes with two 30x80 bottom sheets) If, instead, you select the Partial Split option, then your bottom sheet will be a single piece with only a partial split.
Available Option: Top Sheet - Fitted at the foot
Available Option: Wings
Available Option: Bottom sheet - Anchor-Tite elastic bands
Made in the U.S.A.